Click here to go to middle of page.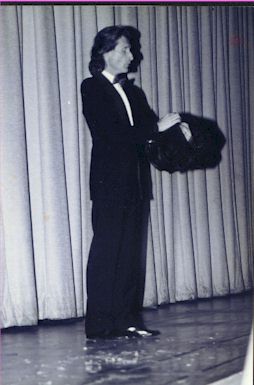 John Rudolph
Bass-Baritone John Rudolph is a veteran performer of local classical and operatic music. He is also a professional church singer with a regular Sunday morning job at St. Mary's Church in Ardmore, PA where he has sung many solos as well as is Section Leader of the bass section. John has done many notable operatic roles including the title role in Giuseppe Verdi's "Attila" and Basillio in Rossini's "The Barber of Seville." as well as sung many oratorio pieces, including the entire bass solo part in Handel's Messaiah, and "Confutatis Maledictus" from Giuseppe Verdi's Requiem. Currently, John studies voice with Ralph Tudisco, a teacher of the old Italian school of singing from the breath. Many who have heard John sing recall the cliche of "the little man with the big voice." Tall and thin, John's voice is powerful enough to fill an entire room as well as the hall way outside; yet he has sustained many a soft note that can bring a chill down your spine. John has sung with such noted groups in and around Philadelphia as the Amici Opera Company, the Main Line Opera Guild and the Delaware Valley Opera Company.
---
Kate Quinn
Soprano Kate Quinn has been singing all her life, in all types of music, from folk to opera and around to classical and even some jazz. She has sung many notable operatic roles, including Leonora in "Il Trovatore" and Odabella in "Attila," both by Giuseppe Verdi and both with the Amici Opera Company.(see above caption) Kate has sung spirituals from "Amazing Grace" to "Ave Maria"(Shubert and Bach) as well as her own compositions of spirituals and songs. A noted composer, works from her upcoming opera "Sephro" have been performed with the Main Line Opera Guild(see above caption) and BCV Artists(Bel Canto Voce Artists) run by president Gerald Blanchard. Kate studies voice with Ralph Tudisco(see above caption). Her voice has been described as "beautiful" and "pure," with a technique that is right in place. Many an audience member has been stirred by Kate's deliverance of a certain aria or song--she connects to what she's singing and brings it forth with such a personal touch one could almost think she were telling her own story in the piece.
Prices are the same for both singers
Click here for phone number and links to other pages.
Weddings: $75.00
Engagement Parties: $75.00
Funerals: $50.00
215-843-6237
Click

to return to the top.
Click here to find out about duets for events.
Click here to go to page two.